Volkswagen Eos - Burlington VT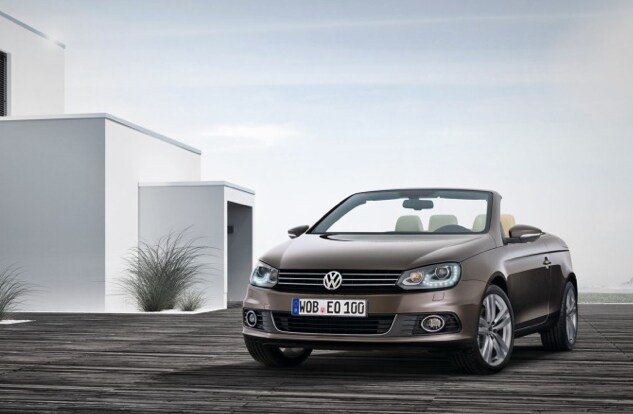 At Volkswagen South Burlington, you will find all the great Volkswagen models including the 2012 Eos. Come in to Volkswagen South Burlington and meet the wonderful Sales and Service teams! We are your destination for a
Volkswagen Eos in Burlington, VT
.
Surprise! Volkswagen has a four-seat retractable-hardtop convertible. It's a pretty darn good one, too. The 2012 Volkswagen Eos isn't a car you'll see on the road every day, and it may not even be a car you've heard of. But here's the reality: If you want a reasonably priced retractable-hardtop convertible with room for four and a premium cabin, the Eos is in a class of one.
The Eos has a unique five-panel retractable-hardtop design. Any retractable hardtop offers passengers the best of both worlds, combining the open-air experience of a traditional ragtop with the comfort and rigidity of a fixed roof. But the Eos does its rivals one better by including an integrated power sunroof. Suppose it's a crisp autumn day or a cool night, so you don't want the full-blast, top-down experience -- but you wouldn't mind an extra helping of fresh air. The Eos has you covered, or uncovered, to be precise. Just power the sunroof panel back for the perfect compromise.
Now entering its fifth year of production, the Eos gains standard Bluetooth and a handful of other features, but it's fundamentally the same as last year. That means it still employs the Volkswagen/Audi tried-and-true turbocharged 2.0-liter four-cylinder engine, tuned to produce 200 horsepower and 207 pound-feet of torque in this application. Other Eos virtues include good fuel economy and the premium cabin design and materials that we've come to expect from Volkswagen.
The 2012 Volkswagen Eos is one of those cars that doesn't really stand out until you think about its competitors. Chrysler Sebring? Its backseat is roomier, but overall quality is disappointing. Ford Mustang? It's underwhelming unless you get the V8 engine, and even then, it's soft-top only. Mini Cooper? It's more fun to drive but less practical. A more direct question, perhaps, is whether you can make the financial stretch to luxury models like the soft-top BMW 1 Series, or the retractable-hardtop BMW 3 Series or Volvo C70. These models would likely provide a more satisfying ownership experience. But at its in-between niche of a price point, the Eos reigns supreme.
Volkswagen South Burlington's 2012 Eos is a front-wheel-drive, two-door hardtop convertible with seating for four. It comes in two trim levels: Komfort and Lux.
The Komfort model comes standard with 16-inch alloy wheels, a tilt-and-telescoping steering column, a leather-trimmed multifunction steering wheel, a trip computer, a power driver seat, heated front seats, dual-zone automatic climate control, cruise control, a rear center pass-through slot, Bluetooth and an eight-speaker touchscreen stereo system (with six-CD changer, an auxiliary audio jack and satellite radio). The Lux model bumps the wheel size up to 17 inches (optional in a different style on the Komfort) and adds power-folding heated sideview mirrors, rain-sensing wipers, burled walnut wood interior trim, leather upholstery, a power front passenger seat, an easy-entry function for rear passengers and an auto-dimming rearview mirror.
Options for both models include adaptive bi-xenon headlamps, rear parking sensors, iPod connectivity and a hard-drive-based navigation system with digital music storage. The Lux is additionally eligible for 18-inch wheels (including a sport-tuned suspension) and a Dynaudio premium sound system.
All Volkswagen South Burlington 2012 Eos models are powered by the same 2.0-liter four-cylinder turbocharged engine, which makes 200 hp and 207 lb-ft of torque. The Komfort trim level is available with either a six-speed manual transmission or six-speed Direct Shift Gearbox (DSG) dual-clutch automated manual, which functions like a traditional automatic with a manual mode but features quicker and more efficient shifts. Lux models are available with DSG only.
In our test of an Eos with the six-speed manual, the 0-60-mph drill took 7.8 seconds. The fuel economy ratings for the 2012 Eos with the manual are 21 mpg city/31 mpg highway and 25 mpg combined. The DSG is rated at 22/29/25.
Standard on all Eos models are antilock disc brakes, stability control and front side airbags.
In Insurance Institute for Highway Safety crash testing, the 2012 Volkswagen Eos earned the top rating of "Good" for both frontal-offset and side-impact tests.
The chief attraction inside the Eos is its five-part retractable hardtop. The top drops in a respectable 25 seconds, though buyers should note that it requires 16 inches of clearance behind the car to operate. Fortunately, rear sensors will warn you if you don't have enough room. As noted, there is also a sunroof section that tilts and slides for those occasions when you don't want a full al fresco experience.
Interior materials are of high quality, and overall the fit and finish of the Eos is tough to beat in its class. Front passengers will most likely find the Eos spacious enough. The retractable top leaves little room in the trunk once stowed -- a roadster-like 5.4 cubic feet. With the top up, cargo space increases to 9.3 cubes.
The 2012 Volkswagen Eos is designed for those who want a relaxed touring convertible. The Eos is perfectly pleasant on boulevards thanks to its soft yet composed ride. The turbo-4 has more weight to contend with here than in other Volkswagen products like the GTI, but it's still torquey and capable. Both transmissions are nicely executed, but we suspect the typical Eos buyer will be happier with the automated DSG. As expected, the retractable hardtop provides coupelike isolation when the weather prevents top-down motoring.